Page 11 - Oil&Gas-AustralAsia-2017-Issue-12
P. 11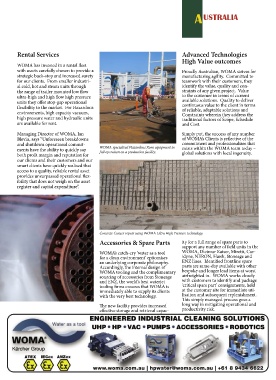 A USTRALIA

Rental Services                                                                           Advanced Technologies
                                                                                          High Value outcomes
WOMA has invested in a rental fleet
with assets carefully chosen to provide a                                                 Proudly Australian, WOMA strives for
strategic back-stop and increased surety                                                  manufacturing agility. Committed to
for our clients. From smaller industri-                                                   teamwork with their customers, they
al cold, hot and steam units through                                                      identify the value, quality and con-
the range of trailer mounted low flow                                                     straints of any given project. Value
ultra-high and high flow high pressure                                                    to the customer in terms of current
units they offer stop-gap operational                                                     available solutions. Quality to deliver
flexibility to the market. For Hazardous                                                  continuous value to the client in terms
environments, high capacity vacuum,                                                       of reliable, adaptable solutions and
high pressure water and hydraulic units                                                   Constraints wherein they address the
are available for rent.                                                                   traditional factors of Scope, Schedule
                                                                                          and Cost.
Managing Director of WOMA, Ian              WOMA specialised Hazardous Zone equipment in  Simply put, the success of any number
Blevin, says "Unforeseen breakdowns         full operation on a production facility.      of WOMA's Clients is reflective of the
and shutdown operational commit-                                                          commitment and professionalism that
ments have the ability to quickly sap                                                     exists within the WOMA team today –
both profit margin and reputation for                                                     global solutions with local ingenuity.
our clients and their customers and our
smart clients have quickly realised that
access to a quality, reliable rental asset
provides unsurpassed operational flex-
ibility that does not weigh on the asset
register and capital expenditure".

                                            Concrete Cancer repair using WOMA Ultra High Pressure technology.

                                            Accessories & Spare Parts                     ity for a full range of spare parts to
                                                                                          support any number of field units in the
                                            WOMA's catch-cry 'water as a tool             WOMA, Dietmar Kaiser, Miretti, Cav-
                                            for a clean environment' epitomises           idyne, NERON, Hawk, Stoneage and
                                            an underlying corporate philosophy.           ENZ lines. Identified frontline spare
                                            Accordingly, the internal design of           parts are same-day available with other
                                            WOMA tooling and the complimentary            bespoke and longer lead items at worst
                                            sourcing of accessories from Stoneage         airfreighted in. WOMA works closely
                                            and ENZ, the world's best waterjet            with customers to identify and package
                                            tooling firms ensures that WOMA is            'critical spare part' consignments, held
                                            immediately able to supply its clients        at the customer site for immediate uti-
                                            with the very best technology.                lisation and subsequent replenishment.
                                            The new facility provides increased           This simply managed process goes a
                                            effective storage and retrieval capac-        long way in mitigating operational and
                                                                                          productivity risk.